A little over 3 weeks ago on Feb 25 I set up 4'x8' raised beds and filled them with "Vegetable Garden Mix" from Living Earth - "A unique blend of compost, loam, sand, aged mulch, expanded shale, and Texas greensand". I planted seeds of radish, lettuce, kale, beets, snap peas, carrots, leeks, seed potato and onions from transplants. I did not add fertilizer at planting. Everything sprouted relatively quickly but I have seen almost ZERO growth since sprouting. It really hit me how bad it was this weekend. I read that radishes should go from seed to harvest in 4 weeks. At 3 weeks, they have not even gotten their true leaves completely yet and have hardly grown at all. I also planted a second planting of beets 2 weeks after the first, and they look no different from the seeds planted earlier. I'm having numerous pest problems, including fire ants, and something is munching at my plants, but I haven't seen the actual culprit. I don't think the pests are the whole problem and I'm not sure how they are contributing.
I thought that I did not need fertilizer at planting since the bed was supposed to be mostly compost, but I'm starting to believe I was mislead about the quality of the soil. In the past week, I sprayed with Garrett juice and orange oil (orange oil mainly to get rid of ants). I also spread molasses throughout the beds and side dressed with Gardens Alive organic vegetable fertilizer mix. But I'm starting to feel like this is not going to be enough. I did some research and was concerned about the amount of wood chips in the soil I got - that they can tie up nitrogen. I did a cheapo soil test on the unimproved soil. N didn't register. It was extremely pale indicating low nitrogen, or the test didn't work. P was medium. K was low to very low. I am not sure how accurate these tests are, but based on the lack of growth in my plants I am starting to think that my soil has some serious deficiencies. I want to address those deficiencies before I plant my next batch of plants (tomatoes, eggplant, peppers, squash, melon, beans, and cucumbers). I'm pretty much figuring my cool weather plants are a lost cause at this point. Very very disappointing. I feel duped. I am thinking of adding blood meal, worm castings and possibly kelp meal to the entire bed. Any other suggestions?
Here's my radishes 3 weeks after planting. As you can see they are small and off color. There are also some tiny holes in the leaves.
Snap Peas. The color is ok but there are brown spots and the leaves have been munched on, although this plant doesn't look as bad as some of the others. The **** fire ants have set up camp right next to them, so I'm not sure what they are up to. I saw some wet shiny trail that looked like slug so I put down some slug baits.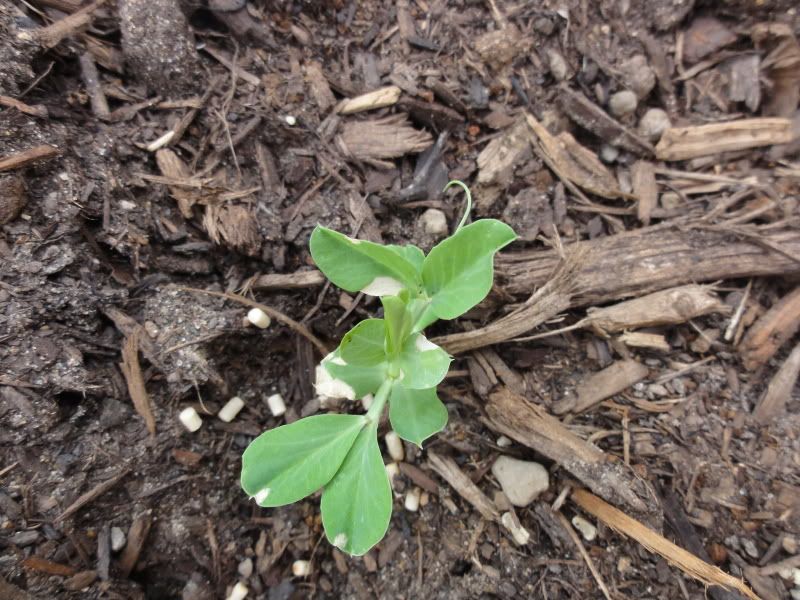 Potato. As you can see something is eating it.