I'll use this blog to post some thoughts on various aspects of the natural world. The subjects will range all over the place. Feel free to respond anytime.
Two things were on my mind this past weekend – strange dead clumps of leaves in pecans and other trees. Secondly a new potentially invasive plant.
The dead spots in trees are the result of my favorite pest – squirrels. They eat the thick bark and cambium layer for the moisture, and the nutrients and the foliage from that point out dies. The situation seems to be the worst in the heat of a dry summer and on stressed trees, probably due to a concentration of sugars by the tree.
Click for larger view.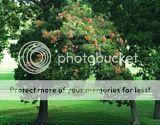 Click for larger view.
Autumn clematis or fall clematis is a beautiful and easy to grow plant that offers color at a time when not much else exists - at the end of summer. Well, it may be too easy to grow. These shots were taken this morning at White Rock Lake in Dallas. I and others in the Lakewood area have planted this pretty vine.
Click for larger view.
Click for larger view.
Do we have a new invasive plant? In the publication
Non Native Invasive Plants of Southern Forests
by James H. Miller of the USDA, the only vines listed are Oriental bittersweet, climbing yams, winter creeper, English ivy, Japanese honeysuckle, kudzu, vincas and no native wisterias. Do some of those surprise you?
We'll talk more about this subject. It's a complicated one. To make it more complicated, Nandina has been on the list for a while and Chinese pistachio is now on it.