Print This Page
Almond Verbena Newsletter
Newsletter
MISTFLOWER AND ALMOND VERBENA – TWO MUST HAVE PLANTS
Whenever I do my talks, it's hard for me to not include two plants that all gardeners should have. They are White Gregg's Mistflower and Almond Verbena. No other plants attract beneficial insects like these do. Here's more information about these two easy-to-grow perennials.
 
Gregg's Mistflower Eupatorium wrightii(Ageratina wrightii), Blue form is Eupatorium or Conoclinium greggi.
COMMON NAMES: Wright's Boneset, Wright Ageratina, Wright Eupatorium, Wright's Snakeroot, Asteraceae (Compositae)
Height: 1 to 2 feet
Width: 1 to 2 feet
PLANT CHARACTERISTICS: Deciduous shrubby perennial. Lacy perennial with delicate lavender flowers from July to October. Does well in sun or light shade. Attracts butterflies. Spreads by rhizomes. Should be pruned to 3" after first hard frost. White mistflower is a low-growing, spreading shrub with intricate leafy branches that bear clusters of fragrant white flowers at their tips in September and October.
HABIT: It grows on rocky limestone hills and slopes in the Guadalupe, Chisos and Davis Mountains in the Trans-Pecos. Most Eupatorium species like moisture, but E. wrightii is more drought tolerant than most, although it may need watering during the summer in dry areas. White mistflower's profuse blossoms attract butterflies and hummingbirds. Its small stature makes it most appropriate for gardens. Heavy shearing in the winter will promote a denser shape and more flowers the following year.
USE: shrubby perennial.
FLOWER COLOR: white but there is a blue variety as well.
BLOOM: late summer through fall.
FRUIT CHARACTERISTICS: dry five-angled achenes.
Almond Verbena (Aloysia virgata)
Also called sweet almond verbena and is the most beneficial insect-attracting plant I have ever grown and the fragrance is wonderful.
Height: 10' - 15'. Spread: 8' - 10'.
LOCATION: It thrives in full sun but can adapt to partial shade. In the US, it grows from Missouri south and does particularly well in California and Texas. It is hardy in the southern areas of the UK and would be very successful in Australia.
HABIT: Large deciduous woody shrub or perennial for full sun to light shade. Spikes of white blooms all summer. Strongly resembles Buddleia. Mostly evergreen in the South, with fine-textured gray-green foliage.
CULTURE: Few if any disease and insect pest problems. Easy to grow in well-drained beds in most soils. It has low water and fertilization requirements. Prune between bloom cycles for dense growth. Hardiness zone 8 – 11. Prune away dead wood early spring at bud swell. Needs to be used as an annual in the north.
USES: Summer color, very pleasant and strong fragrance.
PROBLEMS: Freeze damage in colder areas. Not as easy to find as it should be. The main drawbacks to sweet almond verbena are its rarity in nurseries and cold hardiness. In cold winter locales, it may die to the ground and sprout again in spring.
NOTES: Native of Argentina, it has an upright habit with slightly weeping, sometimes ungainly branches. In mild winter areas, the mature plants reach 15 feet in height and 6 feet in width. At the branch tips are highly fragrant, delicate white flower spikes which sway gracefully at the slightest breeze, sending their aroma wafting over great distances. The buddleia-like flowers are produced in cycles from early spring through summer to fall. The wonderful flowers are a magnet to butterflies, bees, wasps and other nectar feeding pollinators.
To discuss this newsletter or any other topic, tune in Sunday 8am – 11am central time to the Dirt Doctor Radio Show. The call-in phone number is 1-866-444-3478. Listen on the internet or click here to find a station in your area.
Please share this newsletter with everyone in your address book and all your friends on Facebook and Twitter to help me spread the word on organics.
Naturally yours,


Howard Garrett
Click Here to View Past Newsletters
 
---
Enjoy new videos by joining the Organic Club of America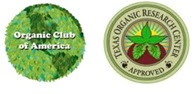 ---
Forward this newsletter to family and friends and ask them
to subscribe for Howard Garrett's Free E-Newsletter.
Dirt Doctor, Inc. P.O. Box 140650 Dallas, TX 75214
Copyright(c) 2015

If you no longer wish to receive Howard Garrett's Weekly Newsletter,
click reply and put Unsubscribe in the subject line.
Search Library Topics Search Newspaper Columns