Print This Page
Ginkgo Tree Garrett Newsletter

Newsletter
Garrett Ginkgo Tree
The early freeze is breaking green leaves off my ginkgo so the color may not be as good as normal. Here is a review of the history of my tree.
One of the oldest trees on earth has taught me a lot about the power of the organic program. Ginkgo has the reputation and history of growing only about 2" a year. Mine grows about 10 times that fast.
Ginkgo is somewhat stiff but an upright growing shade tree that you will know at first glance is a very special plant. It has light colored, smooth bark, and unusual leaves that look like little green fans. It's notorious slow growth, especially here in the alkaline soils, but that isn't such a great problem in an organic program.
I planted mine in 1985 when my daughter Logan was born. The little tree was only about 8' tall. Because of having always been in an organic program, my tree has grown into a big shade tree challenging the area champions that are about 5 times older. Ginkgo Tree Video
Ginkgo is great to look at and is also a good climbing tree and good for the vegetable garden because it offers light shade for the ground plants. The yellow fall color is usually spectacular. Read more about it in my book – Herbs for Texas and in the library of my website DirtDoctor.com.
Two root flare shots showing what I thought was an exposed flare and after the flare had been exposed properly.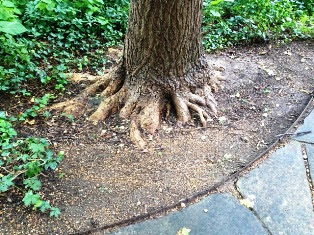 If you have any questions on this newsletter or any other topic, tune in Sunday 8 am -11 am (CST) to the Dirt Doctor Radio Show. Listen on the internet or find a station in your area. The phone number for the show is 1-866-444-3478. Please share this newsletter with everyone in your address book and all of your friends on Facebook and Twitter to help me spread the word on organics.
Naturally yours,

Howard Garrett
Click Here to View Past Newsletters
---
Join the Organic Club of America.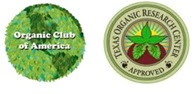 Membership supports TORC.
Forward this newsletter to family and friends and ask them
to subscribe for Howard Garrett's Free E-Newsletter.
Dirt Doctor, Inc. P.O. Box 140650 Dallas, TX 75214
Copyright(c) 2014
If you no longer wish to receive Howard Garrett's Weekly Newsletter,
click reply and put Unsubscribe in the subject line.
Posted 11/21/14
Search Library Topics Search Newspaper Columns