(Beyond Pesticides, August 11, 2009)
Carrboro, NC, the site of Beyond Pesticides' 27th National Pesticide Forum, is the latest town to join the list of states and communities employing goats for nontoxic weed control. Communities across the nation, from Maryland to Wyoming to California, are discovering that grazing goats is a great option for land that suffers from unwanted plants, low organic matter and soil compaction. Goats eat weeds, add fertilizer and aerate the soil with their hooves, all at the same time.
The town of Carrboro hired Goat Patrol, a targeted grazing service based in the Research Triangle region of North Carolina, to control a poison ivy infestation in a town dog park. The company, which currently consists of 16 goats, is owned and operated by Alix Bowman. Ms. Bowman says the inspiration for the business was found knee deep in a patch of English Ivy, which she was struggling to remove to make way for a garden. "If only I had some goats," she thought. Four months later, the business school graduate returned to her farming roots and started the Goat Patrol.
The Carrboro Board of Aldermen adopted an integrated pest management policy to reduce the use of pesticides on town property in 1999, the company was a natural fit. "There are lots of these problems that can be dealt with without poison," Allen Spalt, a former alderman who introduced the resolution when he was on the board, told the Chapel Hill News. "Pesticides by design are poison to living things."
Of 30 commonly used lawn and landscape pesticides, 14 are probable or possible carcinogens, 15 are linked with birth defects, 21 with reproductive effects, 24 with neurotoxicity, 22 with liver or kidney damage, and 27 are sensitizers and/or irritants. Aside from being healthier for people and the environment, goats are often a cheaper option and provide a better long-term solution to the problem.
Ms. Bowman told the Carrboro Citizen that the goats have the same hours as most landscapers and are even more efficient in getting to the hard-to-reach places. "The goats are often less expensive and get into a lot of stuff other workers wouldn't want to touch," she said. "What's poisonous to humans can be dessert to goats."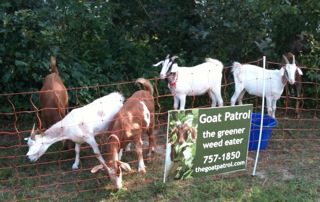 For more information on natural, non-chemical land management strategies, read "Successfully Controlling Noxious Weeds with Goats: The natural choice that manages weeds and builds soil health" by Lani Malmberg; watch the video from the "Organic Land Management: Lawns, gardens and open spaces" workshop at the 27th National Pesticide Forum in Carrboro, NC and see Beyond Pesticides' Lawn and Landscape pages.


---
Poison Ivy Facts
Poison Ivy with Fall color.
The organiphobes recommend spraying 2,4-D and other toxic herbicides but that's a very bad idea. Toxic products contaminate the soil, the water, the air, wildlife, pets, you and me. Plus, they don't work very well anyway. Besides being very dangerous toxic chemical for the soil, water, air and you, it will kill your trees. Poison ivy must be physically removed.
Goats will eat it into oblivion for you or you can hire someone to dig it out. Then as it starts to grow back, the young returning growth can be sprayed with the vinegar-based herbicide. Add one ounce of d-limonene such as orange oil and one teaspoon liquid soap to one gallon of 10% vinegar made from grain alcohol. The skin rash can be treated with the juice of comfrey. When applied early on, it is quite effective. Poison oak has a more oak-like leaf but has the same properties as poison ivy.
Poison Ivy   "Leaves of three...let them be!"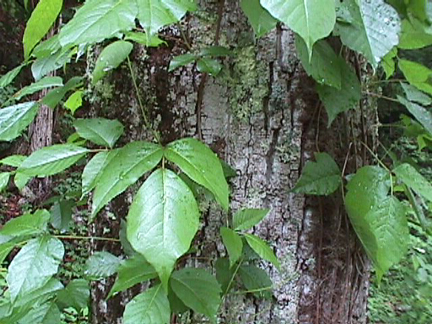 Reader photo submitted by Dan M. Roberts


Reader photo submitted by Dan M. Roberts



Poison Ivy vine not in bloom.  You can still get the poison rash from
this non-blooming vine if you touch it when trying to remove it.