Print This Page
New Year Resolutions 2015

Newsletter

New Year Resolutions 2015.
Yes, it's annoying – but time for resolutions. Here are some things I recommend you consider.
Healthy Living
1. Stop smoking and chewing. (That goes especially for some of my golf buddies)
2. Stop touching your face with hands. (Major way to get colds and the flu)
3. Stop wearing shoes that are too small. (Toes need to spread out)
4. Stop using microwaves. (It's just moronic)
5. Stop using regular salt - use sea salt. (Trace minerals are the main benefit)
6. Exercise, lose weight, tone up. (Walk, cut down on sugar and breads, and do yoga)
7. Always eat breakfast. (But skip a meal from time to time)
8. Drink 8 oz of filtered water first thing in the AM. (And several more during the day)
9. Eat grass-fed meats, eggs and dairy products. (Even better if they are organic).
10. Use natural cures when possible. (See my Herbs for Texas book)
Here's the link to my health page: Link

Gardening / Landscaping
1. Stop using toxic chemicals, go organic.
2. Stop planting plants too deep
3 Stop using peat moss.
4. Stop using pine bark.
5. Stop wrapping and staking trees.
6. Stop catching grass clippings.
7. Stop tilling after soil is healthy.
8. Stop raking, bagging and gathering leaves.
9. Stop over-watering plants.
10. Stop listening to Chemical Pushers
Organic Products to Start Using
1. MaestroGro fertilizers and amendments especially Texas Tea and Garrett Juice
Pro, GreenSense fertilizer and amendments
2. Black Kow compost
3. Azomite rock minerals
4. Medina fertilizers and amendments
5. Smart Pot fabric planting containers
For pets – Victor Dog and Cat foods are top of the quality chart in this category.
Human Health Products
1. Dr. Ohirra's Probiotics
2. Crazy Water
3. Chia Omega
4. Kyolic Garlic.

If you don't mind me saying so, all of my books should probably go in this quality list for the next year's gardening – especially the Herb Book, Bug Book, Organic Manual and the brand new Organic Lawn Care book.
If you have any questions on this newsletter or any other topic, tune in Sunday 8 am -11 am central time to the Dirt Doctor Radio Show. Listen on the internet or find a station in your area. The phone number for the show is 1-866-444-3478.
Please share this newsletter with everyone in your address book and all of your friends on Facebook and Twitter to help me spread the word on organics.
Naturally yours,


Howard Garrett
Click Here to View Past Newsletters
Join the Organic Club of America.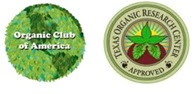 Membership supports TORC.
Forward this newsletter to family and friends and ask them
to subscribe for Howard Garrett's Free E-Newsletter.
Dirt Doctor, Inc. P.O. Box 140650 Dallas, TX 75214
Copyright(c) 2015
If you no longer wish to receive Howard Garrett's Weekly Newsletter,
click reply and put Unsubscribe in the subject line.
Search Library Topics Search Newspaper Columns