Print This Page
Rain Brings Changes - Newsletter
Newsletter 2015
Heavy Rains Bring Many Changes
This was not only the wettest May on record but also the wettest month ever in 121 years of record keeping, according to the National Oceanic and Atmospheric Administration (NOAA). Some plants have liked it a lot, others have been seriously injured or killed by the excessive soil moisture.

Rainfall for the contiguous states was 4.36 inches, 1.45 inches above average, and ahead of October 2009's 4.29 inches, the previous record. The previous wettest May was 1957, which got 4.24 inches of precipitation. I suspect that we will continue to see some unusual plant reactions and some out of the ordinary disease and insect issues. That has already begun in fact. Keep an eye out and report any pests or other problems you have and we will try to help
Here's a map showing where the rain fell:


To discuss this newsletter or any other topic, tune in Sunday 8am - 11am central time to the Dirt Doctor Radio Show. The call-in phone number is 1-866-444-3478. Listen on the internet or click here to find a station in your area.
Please share this newsletter with everyone in your address book and all your friends on Facebook and Twitter to help me spread the word on organics.
Naturally yours,


Howard Garrett
Click Here to View Past Newsletters


Join the Organic Club of America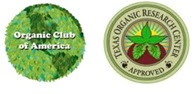 Forward this newsletter to family and friends and ask them
to subscribe for Howard Garrett's Free E-Newsletter.
Dirt Doctor, Inc. P.O. Box 140650 Dallas, TX 75214
Copyright(c) 2015

If you no longer wish to receive Howard Garrett's Weekly Newsletter,
click reply and put Unsubscribe in the subject line.
Search Library Topics Search Newspaper Columns