Print This Page
Roundup(Glyphosate)Ruins Health Video Newsletter

Newsletter
VIDEO EXPLAINING HOW ROUNDUP (Glyphosate) RUINS HEALTH
Roundup is a nasty product. Our recent Newsletter regarding glyphosate being classified as carcinogenic produced great response. It's important to understand that glyphosate kills gut flora in animals and people and that leads to many diseases. Almost all of the corn, soy, canola, sugar beets and other plants in the United States and Canada are GMO Genetically Modified Organisms. These plants are regularly sprayed with Roundup.
As I promised on my radio show Sunday, here is a excellent video Dr. Thierry Vrain that explains in detail how Roundup and GMO foods hurt you and all life.
Here's the link to our previous newsletter if you missed it. Glyphosate Is Anything But Safe. And here is an article including almost 40 links to research on the dangers of Roundup: Roundup. Enough to Make You Sick.
Monsanto, Scotts Miracle-Gro and other large toxic chemical companies spend hundreds of millions of dollars every year to influence the retail distribution networks, landscape contractors, University research and municipal Park & Recreation Departments. We need your support to change these big institutions and make our neighborhoods healthier.
Please donate $5.00 or more today to the Texas Organic Research Center (TORC) so we can distribute the research and hold seminars to inform and change the use of Roundup by contractors and our public park departments.

TORC is a 501(c)(3) non-profit organization. Your contribution is fully tax deductible to the extent provided by law. Please make a donation to TORC today: online ("Buy a Donation") or by US Postal Mail.

To discuss this newsletter or any other topic, tune in Sunday 8am -11am central time to the Dirt Doctor Radio Show. The call-in phone number is 1-866-444-3478. Listen on the internet or click here to find a station in your area.
Please share this newsletter with everyone in your address book and all your friends on Facebook and Twitter to help me spread the word on organics.

Naturally yours,


Howard Garrett
Click Here to View Past Newsletters

Join the
Organic Club of America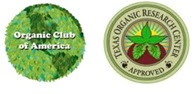 Forward this newsletter to family and friends and ask them

to
subscribe
for Howard Garrett's Free E-Newsletter.
Dirt Doctor, Inc. P.O. Box 140650 Dallas, TX 75214
Copyright (c) 2015

If you no longer wish to receive Howard Garrett's Weekly Newsletter,
click reply and put Unsubscribe in the subject line.



Search Library Topics Search Newspaper Columns